Recommended Books
At Twelve: Portraits of Young Women
Author: Sally Mann


Mann
Erotic Innocence : The Culture of Child Molesting
Author: James R. Kincaid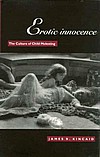 The question "What is a child?" is at the heart of the world the Victorians made. Throughout the nineteenth century, there developed an image of the child as a symbol of purity, innocence, asexuality--the angelic child perhaps not wholly real. Yet at the same time, the child could be a figure of fantasy, obsession, and surpressed desires, as in the case of Lewis Carroll's Alice (or later, James Barrie's Peter Pan). This image of the child as both pure and strangely erotic is part of the mythology of Victorian culture.
Eva: Eloge De Ma Fille
Author: Irina Ionesco


This is an amazing body of work, and one might think it was done in the 1920's as the style is sort of the flapper mode. Irina chronicles her daughter as she grows from a young child to a young women. It is disturbing as one cannot look at the pictures of Eva as a young child and not think of the tragedy of Jon Benet. Eva as a little child is made up as a siren with a combination of innocence and provocation.
Pictures of Innocence : The History and Crisis of Ideal Childhood (Interplay)
Author: Anne Higonnet


Pictures of Innocence--with 100 illustrations that range from Caravaggio's raunchy Cupid to Edward Weston's luminous, analytical nude studies of his son Neil to anonymous family Christmas-card snapshots--is the kickoff title in what is billed as "a new series of books about controversial themes and issues in the arts that cut across traditional disciplines." Higonnet marshals masses of material to develop her argument that the way we look at children and childhood is changing, and that this change affects our judgment of art, freedom of expression, sexuality, privacy, consent, exploitation, and child abuse.
The Age of Innocence
Author: David Hamilton


Many of the photos are soft, muted, elegant, and almost dream-like, while others are sharp and rich in color and contrast. There are full figure studies and a variety of portraits.
Until Now
Author: Anne Geddes


Sleeping angels. Flower fairies. Woodland nymphs and watermelon seeds. Anne Geddes's magical world is populated by hundreds of beautiful, chubby babies and gorgeous children dressed as peapods, pansies, peonies, and pearls. Geddes fans will be thrilled by Until Now, a lush, coffee-table-sized, 10-year retrospective of Geddes's work, including 1991's crowd-pleasing "Cabbage Kids", featured on calendars and coffee mugs everywhere, as well as many previously uncollected shots from Geddes's New Zealand studio.
Reflections in a Looking Glass : A Centennial Celebration of Lewis Carroll, Photographer
Author: Lewis Carroll

Published on the one hundredth anniversary of the death of Charles Lutwidge Dodgson (Lewis Carroll), Reflections in a Looking Glass presents Carroll's remarkable photography. Richly illustrated, this important book presents seldom-seen works-most of them formal portraits and staged scenes that combine Carroll's famous...