Recommended Books
Jock Sturges: New Work 1996-2000
Author: Jock Sturges


Building on his first monograph, Jock Sturges, presents us with a new body of work that strikes the same chords of beauty and evolution that we find in his earlier images, but with a more intense dramatic and metaphoric intention. His new work often has an almost theatrical effect on the viewer-seeming to emanate directly from the lives of the artist's models. The settings, the subjects, the sumptuous lighting will all be familiar to longtime admirers of Sturges' ongoing body of work.
Jock Sturges
Author: Jock Sturges


This is the first comprehensive publication on American photographer Jock Sturges (b.1947) compiled by the artist himself. It is nothing less than an ode to beauty. For more than 20 years, he has been taking photographs of girls growing up, both in his native California and at a nudist resort on the Atlantic coast of France.
Holy Nature: A Celebration of Naturism in Today's Russia
Author: Mikhail Rusinov


This well written book presents a group of people, in St. Petersburg (former Leningrad), Russia, who call themselves 'The Free Body Culture Society'. Some events photographed in this book include Children's Day at the beach. As well, their are interview of child naturist, Alla.
Balthus
Author: Claude Roy


Count Balthasar Klossowski de Rola, better known as Balthus, is one of the greatest European painters of our time. Though not part of any major school, Balthus lives and works in Switzerland and has steadily gained recognition over the past 20 years. See in this study the brooding art of this fascinating, contemporary artist. This landmark book will be prized by anyone who admires contemporary art. 182 color plates.
Childhood Streets
Author: Graham Ovenden


This book is a beautiful collection of older black-and-white photos of children. It is a kind of document of a time, when children could play safely on streets, bath naked on a rivers bank, roam through streets as if they were a continuation of there flats. The work is more edgy reportage than sentimental kitsch, though he remains eminently sympathetic to his subject matter.
Family Nudes
Author: Ralf Mohr


Intimacy within the family, love and closeness: these are the themes of this volume of photos, which shows the natural trust between parents and children, the matter-of-factness of being close, also naked, skin to skin. The result: portraits full of individuality and strength. (FOCUS, Germany)
In Their Mothers' Eyes: Women Photographers and Their Children
Author: Martina Mettner


"Whether posed portraits or casual snapshots, these wonderful photographs comprise the first book devoted to images of children from the perspective of mothers who are professional photographers...While the theme is universal and timeless, the range of photographic styles and approaches represented in this international collection is impressive in its diversity." - the publisher.
Includes work by Sandi Fellman, Debbie Fleming Caffery, Sally Mann, Sheila Metzner and many others.
Show Me!: A Picture Book of Sex for Children and Parents
Author: Will McBride


"Show Me!", by Will McBride ... is a book of photographs with captions by McBride plus significant informative explanatory text by Dr. Helga Fleischhauer-Hardt who discusses how to best present these explicit photographs and the book's sexual content to children and the appropriate ages to do so -- and Helga then appropriately delves into the issues of breast feeding, adolesence, puberal changes, menses, sexual anatomies, pregnancy, masturbation, contraception, sexual behavioral disturbances and veneral disease.
Pleasures Taken : Performances of Sexuality and Loss in Victorian Photographs
Author: Carol Mavor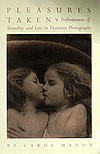 In the book, she follows the example of Roland Barthes, "writing aloud" and reacting personally to photographs by Julia Margaret Cameron, Hannah Cullwick, and Lewis Caroll. Photography calls for such an approach, Ms. Mavor says, since it conjures images and memories in the observer.
Immediate Family
Author: Sally Mann


Mann's work is quite controversial in circles where nudity and innocence do not overlap. Includes an afterword by writer Reynolds Price. Terror, self-discovery, doubt, vulnerability, pain, and joy all clash and converge in Mann's powerful photographs. Sally Mann's widely acclaimed Immediate Family, which explores childhood with unparalleled emotional depth, is now available in paperback for the first time. An exhibition of the collection began a US tour in October 1992.