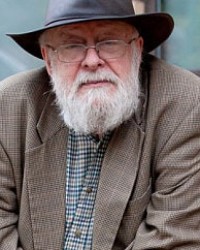 Graham Ovenden (Born 1943 in Alresford, Hampshire, England); English painter, fine art photographer, writer and architect.

Born in Alresford into a Fabian household, Ovenden attended Itchen Grammar School (1954-59) and was taught music privately by Albert Ketelby. Ovenden went on to be a student at the Royal College of Music, before he eventually turned to the visual arts.

His 1950s street photographs of London's children's street culture have been published as Childhood Streets (1998).

In his youth he was mentored by Lord David Cecil and Sir John Betjeman. He attended the Southampton School of Art, and graduated from the Royal College of Art in 1968. His main fame has been as a painter, and he seems to have begun painting from 1962/3.

Ovenden is noted as a photographer in his own right, and his book States of Grace (1993) is highly sought after by collectors and is now almost impossible to obtain.

He is also a writer and contributes to a variety of journals. He has also undertaken stage design and book illustrations.