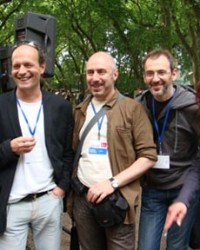 AES group has been created in 1987, it became AES + F in 1995. Tatiana Arzamasova, Lev Evzovitch-graduated from MARHI, Evgeny Svyatsky - Printing Institute, Vladimir Fridkes - the leading Russian photographer working cooperatively with the Russian edition of Vogue, GQ, AD.

AES + F is the only name in contemporary Russian art that is not associated with soviet art tradition. Artists say there works are influenced by Leonardo, Lawrence, Nietzsche, Sun Tzu and Bata.

Exhibition history AES + F started in the West. Artists cooperated with the Austrian, German, French, Spanish and American galleries, participated in all the major events of modern art in recent years. This year AES + F represent Russia at the Venice Biennale.